DISPOSABLE HEROES,
THE #1 METALLICA TRIBUTE
2010 News
Posted: 9/3/2010

NEW VIDEO OF THE CLASSIC DISPOSABLE HEROES



It's been too quiet the last while so what better way to kick things off again than with the release of a new video. The Metallica classic Disposable Heroes performed live by DH can be viewed in the latest video HERE or on the Media page so CHECK IT OUT!

In other DH news, shows and new original tunes are being worked on as of this writing so check back soon for the latest.
Posted: 8/4/2010

DISPOSABLE HEROES SPREADS TO FACEBOOK



Hello kiddies, long time no see. Disposable Heroes is pleased to announce that they have finally sucummed to the pressure and spread to the world of Facebook. Apparently this Facebook thing isn't going anywhere fast so we thought we'd use it to give you some new stuff on there.

Please click the Like button below to follow DH on Facebook. There will be a ton of content on there that won't be available anywhere else so start following DH on Facebook now!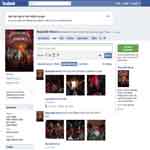 Posted: 5/30/2010

DISPOSABLE HEROES PLAY FOR THE TROOPS AT CFB COLD LAKE



The guys hadn't been up to play for the fine people of Cold Lake Alberta for a long time. This time was made even more special as the guys were playing for the troops at Canadian Forces Base Cold Lake. Not only were there tons of our Canadian troops on hand but men and women from the militaries of the United States and France were also there to take in the show. Very cool stuff and the guys were proud to play the show.

Very cool show to say the least. The DH boys hope to be back up north again in the not too distant future.

Setlist

Creeping Death
For Whom The Bell Tolls
Harvester of Sorrow
Fuel
Wherever I May Roam
Sad But True
Cyanide
Broken Beat and Scarred
Fade To Black
The Memory Remains
One
Master of Puppets
Seek and Destroy
The Day That Never Comes
Damage Inc.
-------------------------
Helpless
Hanger 18
Motorbreath
Enter Sandman
Battery
Posted: 3/23/2010

TWO NIGHTS IN SASKATOON



Disposable Heroes hadn't been back to Saskatoon in a couple of years so the guys were pumped to get back to some of the best fans in Canada. The Friday show kicked off with Wrathed opening things up, Saturday featured Myth to open the show. Both are great bands so definitely check them out if you get the chance.

The sets featured a few surprises as always. Dyers Eve was blasted out for the first time in a while. Tornado of Souls (yes, a Megadeth tune) was played both nights.

Friday March 19/10

Blackened
Disposable Heroes
Ride the Lightning
Harvester of Sorrow
Fade To Black
Cyanide
Damage Inc.
Sad but True
One
Tornado of Souls
Broken Beat & Scarred
Master of Puppets
Nothing Else Matters
Shortest Straw
Enter Sandman
---------------
Helpless
Of Wolf and Man
No Remorse
Creeping Death


Saturday March 20/10

That Was Just Your Life
For Whom The Bell Tolls
Fuel
Sanitarium
Wherever I May Roam
Devil's Dance
Sad but True
One
All Nightmare Long
The Day That Never Comes
Master of Puppets
Nothing Else Matters
Dyers Eve
--------------
Tornado of Souls
Enter Sandman
The Four Horsemen
Leper Messiah
Last Caress
Am I Evil
Whiplash
Seek and Destroy
Battery

 
Posted: 3/3/2010

SASKATOON SET FOR MARCH 19/20 NEW SHOW ADDED FOR RED DEER



Well the guys are set to return to Saskatoon Saskatchewan for shows on Friday March 19 and Saturday March 20 at The Roxy on Broadway. It's been a couple of years since DH last played in Saskatoon so the guys thought they'd give an extra large dose of metal. How do you feel about a three hour show, both nights? Yeah, crazy right? Look for a few surprises to be added to the shows as always.

In other news, Disposable Heroes have added a new show set for Red Deer Alberta on Friday April 16th at Wild Bills. The crowd was amazing for the shows last year with Paul Di'Anno so be sure to get your hands on tickets ASAP. Give Wild Bills a call at 403-343-8800.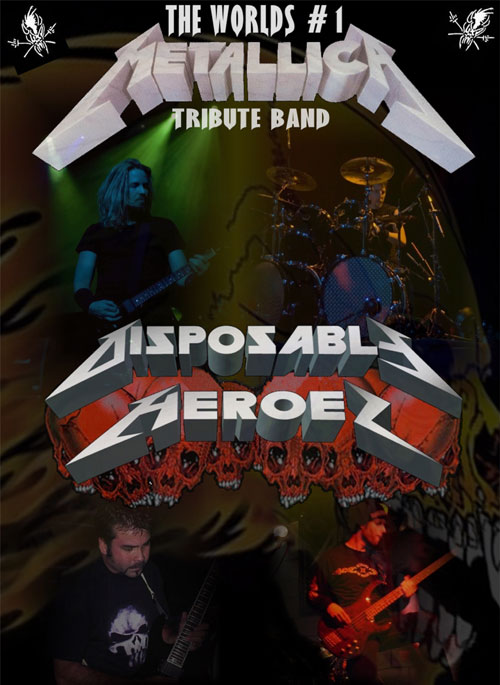 Posted: 2/19/2010

DISPOSABLE HEROES IN GRANDE PRAIRIE ALBERTA



The guys had more fun than should be allowed once again in Grande Prairie Alberta. Both shows on Feb 6 &7 were packed with fans out for a good time. What more can you ask for?

Highlights from the two nights included Broken Beat and Scarred, Shortest Straw, Helpless, Devil's Dance and an audience member contributing vocals to Seek and Destroy.

Saturday February 6

Blackened
Ride The Lightning
Harvester Of Sorrow
Fade To Black
Cyanide
Damage Inc.
Sad But True
One
Broken Beat and Scarred
The Day That Never Comes
Master Of Puppets
Shortest Straw
Enter Sandman
- - - - - - - -
Helpless

Sunday February 7

That Was Just Your Life
Creeping Death
Fuel
Sanitarium
Wherever I May Roam
Devil's Dance
Sad But True
One
All Nightmare Long
The Day That Never Comes
Master Of Puppets
Nothing Else Matters
Disposable Heroes
Enter Sandman
- - - - - - - -
Seek and Destroy
Four Horsemen
Posted: 1/26/2010

DISPOSABLE HEROES RETURN TO GRANDE PRAIRIE FOR A PAIR OF SHOWS Feb 6, 7



Hello friends! Well the DH boys loved the crowd in Grande Prairie Alberta from their show with Paul DiAnno last year so much that they're returning for not one but two shows! The shows are set for Saturday, February 6 and Sunday, February 7 2010 at Better Than Fred's as a part of their UFC109 event on Saturday and a huge Super Bowl party on Sunday.

Needless to say, this will be one weekend that you do not want to miss out on. Contact Better Than Fred's for information on show times and ticket availability.

Better Than Freds

9903 101 Street
Grande Prairie, AB T8V 2P6
(780) 532-4450
Get directions