DISPOSABLE HEROES,
THE #1 METALLICA TRIBUTE
2015 News
Posted: 11/9/2015

DISPOSABLE HEROES SET TO PLAY NORTH BATTLEFORD SK



Saskatchewan!!! DH is coming your way, Saturday, November 14th at the Dekker Centre in North Battleford. Tickets are available online @

www.dekkercentre.com

or call 306-445-7700 extension 2.

See you there!!!!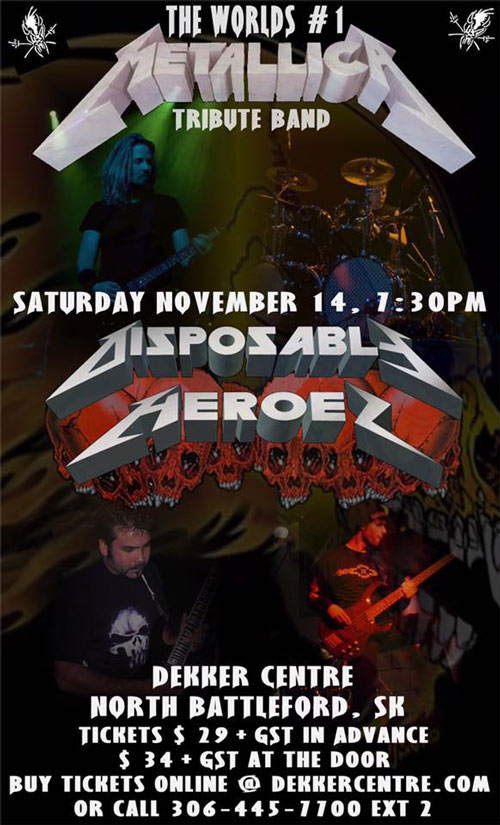 Posted: 4/4/2015

DISPOSABLE HEROES LIVE IN CALGARY

Great show! Good to play to the home town crowd!

Setlist

Blackened
The Four Horsemen
The Day That Never Comes
For Whom The Bell Tolls
Creeping Death
Sanitarium
Master of Puppets
Fade To Black
Harvester Of Sorrow
Fuel
Last Caress
Am I Evil
Whiplash
Sad But True
Ride The Lightning
Enter Sandman
Wake Up Dead
-----------------
One
Seek and Destroy
Disposable Heroes

Posted: 3/9/2015

DH TO PLAY APRIL 4TH IN CALGARY AB

We're back metal fans! Disposable Heroes along with the original line-up is playing in Calgary at the Century Casino on April 4th, 2015. We're bringing out all the classics and a few surprises too! Tix at the door $15 or pre-show at the Century Casino. Hope to see you all there!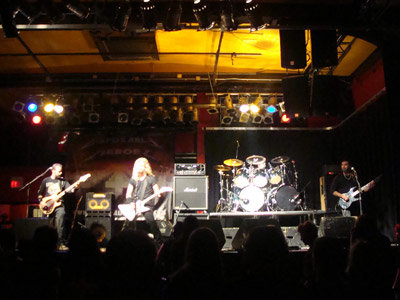 Posted: 1/14/2015

BIG news and more shows coming soon.....

Howdy friends!!! It's been WAY too quiet around here wouldn't you say? We've got some big news to announce very soon as well as some new shows! Yes, you read that right, DH will be getting busy again in 2015 so stay tuned....